Technology
Android's emergency satellite service could work in over 150 countries with Garmin on board
Global Emergency Satellite Service: Android Teams Up with Garmin for Widespread Coverage
By a show of hands, let's see how many of you think that the iPhone was the first smartphone offering emergency services via satellite connectivity. Wow, it's going to be interesting to tell all of you with your hands up that you're wrong. Actually, Huawei's Mate 50 series introduced its version of this feature one day before Apple did. And now there is talk that Huawei's Mate 60 line, due out later this year, will offer voice and image transmissions by satellite.
With iOS and Harmony ahead of the pack, Google is supposed to dip its toes in the satellite water with the release of Android 14. One rumor last month said that the release of Android 14 was going to bring satellite connectivity to Pixel and Galaxy handsets at first. The rumor said that the Android 14 update will add the necessary software while phone manufacturers will have to deal with the hardware requirements.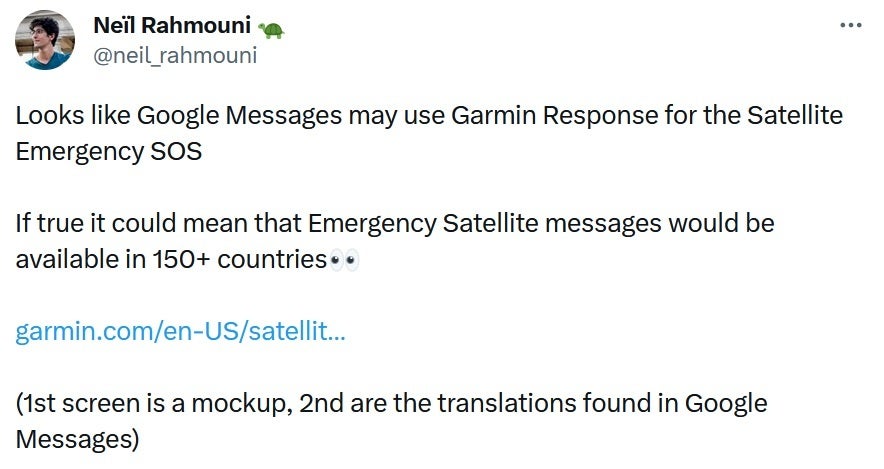 [news_related_post]
The Team Pixel FanClub, while not affiliated with Google, said that Pixel and Galaxy models will be the first Android devices to sport the necessary hardware required for satellite connectivity to work. And on Sunday, Neïl Rahmouni, who back in June was nominated as a Top Google Developer Online Contributor, posted on X that it "Looks like Google Messages may use Garmin Response for the Satellite Emergency SOS. If true it could mean that Emergency Satellite messages would be available in 150+ countries."
This would instantly top Apple's Satellite connectivity service which is available in only a handful of countries at the moment. Not that it hasn't proven its worth as Apple's Emergency SOS via Satellite has already saved numerous lives.
Despite having his name all over the X message proclaiming that Garmin's service might be used by Google Messages for its satellite connectivity feature, Rahmouni believes that we shouldn't assume that the Google-Garmin tie-up is happening until Google makes the official announcement. At this point, we don't know when the feature is expected to launch and more importantly, which Android devices will support it.