ASUU Blasts Amaechi, Ngige, Nwajiuba Over N100m APC Presidential
The Academic Staff Union of Universities, ASUU has condemned Rotimi Amaechi, Minister of Transportation, Chris Ngige, Minister of Labour and Employment and Chukwuemeka Nwajiuba, Minister of State for Education, over the N100 million Presidential nomination forms of the All Progressives Congress, APC.
ASUU, University of Calabar branch, said picking up the APC Presidential nomination form at N100 million shows that Amaechi, Ngige, Nwajuiba, and others don't value education in Nigeria.
Dr Edor J. Edor, the ASUU Chairman of the UNICAL branch, said the Ministers Amaechi, Ngige had exposed that Nigeria's foundation is faulty.
Edor charged the APC Presidential aspirants to defend how they raised N100 million considering their payment slip.
According to Edor: "Nwajiuba has just done what every other politician is doing; why should I isolate Nwajiuba and condemn him for picking N100 million nomination form to vie for APC Presidential ticket?
"It is condemnable, whether it's Nwajiuba, Ngige, Amaechi, or whoever. It just shows you how defective the foundation of the Nigerian nation is.
"They will show you their payslip, that this is what a minister earns in a month and multiply it by eight years, it's not up to N100 million, but they pick a nomination form of N100 million. At N100 million, it would take a Professor 416,000 monthly, 20 years to earn such. And how many Professors do you have that have worked for up to 20 years?
"That means you must have become a professor at the age of 50; the question is, how many of us can become a professor at the age of 50? This shows you that a lot of professors would never earn that till they die.
"Consider what they are doing; is it a show of wealth? Is it to show that their political parties have rich politicians who have stolen money? They are feasting on the resources of the Nigerian nation.
"To come out and say their nomination form is N100 million, they are just telling you how they are, how corrupt their minds are."
On whether the Ministers value education considering that ASUU is on strike, Edor added: "Of course, they don't value education; the way Nwajiuba talks about education, you will know he does not understand the university system. That is somebody who goes on air to say ASUU as an employee does not deserve the right to decide a payment platform. Has Nwajiuba forgotten what is called collective bargaining? Does he even know what is called industrial democracy?
"For them, an employer is a boss; an employer is an emperor, an Egyptian Pharaoh, where the employee has nothing to say. No, we have gone beyond that in this modern world.
"There is what is called industrial democracy, and there is what is called collective bargaining agreement, where the employee can point to the employer on what can be done to make things better, and this is what ASUU has done by pointing at the loopholes in the IPPIS and proffering a solution.
"Now they have moved from UTAS did not pass an integrity test to saying an employee cannot detect the payment mode for the employer. They may not know it, but they are bereft; Nwajiuba does not understand the university system, and Chris Ngige does not understand the principles of labour relations."
The ASUU Chairman also insisted that the body would continue the industrial action until the government meets their needs.
"We are holding onto our industrial action until the government gets sense. Do you think they do not know what they are doing? They have cut our salaries; what else do they want to do? A man on the ground fears no fall; we are already on the ground. We are already inside the water; why threaten me with a cold?" He stressed.
Send   
How Aspirants Are Using APC Presidential Declaration To Negotiate Senate Tickets
Several of the aspirants vying for the presidential ticket of the All Progressives Congress, APC are using the platform to also make a stake for the Senate, TATTLENG.COM has learnt.
Senator Godswill Akpabio who declared his intention on Wednesday for the presidency, it was learnt, could also use the platform to successfully negotiate to be Senate President in the event that someone from outside the South-South zone gets the presidential ticket.
The only other contender for a principal officer position with him is Senator Francis Alimikhena who is also fighting the political battle of his life with Comrade Adams Oshiomhole.Oshiomhole had a month ago while celebrating his birthday declared his interest in the senate. He, however, has met stiff resistance from Senator Alimikhena who is determined to return to the Senate with the dream of vying for the office of Senate President or any other prominent position that could come to the South-South.Declaring his intention to bid for the Senate then, Oshiomhole had said:"It is true that for quite sometimes, many of our people have asked me why don't you contest for the Senate and I said first APC has crisis, let us fix the crisis, let there be convention because you cannot begin to discuss what kind of baby you are going to have when you are not married."Our leaders from the six local government areas have gathered here today to say I should contest and I believe that with your support, we will get there," he had declared last April.However, with the rough battle at home in Edo North, Oshiomhole like Akpabio and some other contenders for the presidential ticket of the APC, it was gathered has decided to show strength at the national level by declaring for the presidency with the Senate being a soft landing.TATTLENG.COM gathered that the bid by these presidential declarants fits in with the Villa cabal who in the next few days up the chorus for a consensus with those heeding the call being given Senate tickets and other positions.Send   
Tension Mounts In Akwa Ibom Over PDP Ward Congress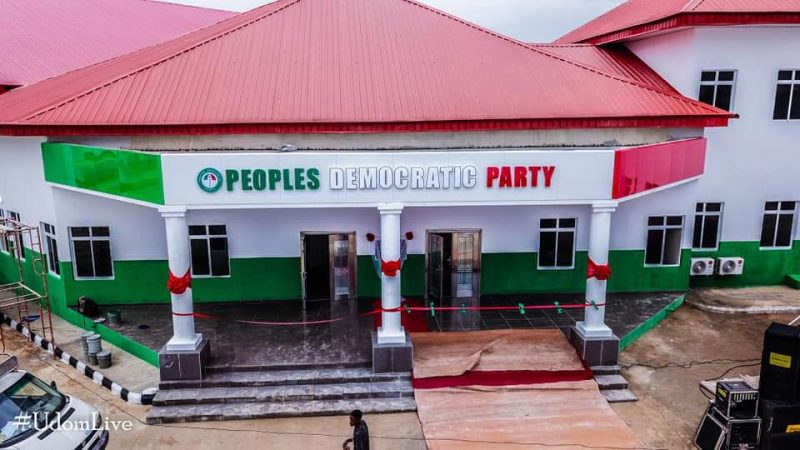 Palpable tension is gripping the mainstream of the Peoples Democratic Party, PDP in Akwa Ibom State over issues arising from the just concluded election ward congress of the party with the state leadership apprehensive of the prospects of the cancellation of the exercise.
Some of the party aspirants especially the governorship aspirants and their supporters had during the exercise raised allegation of disenfranchisement and election irregularities.
It could be recalled that Governor Udom Emmanuel had denied the allegations that the party disenfranchised anyone during the ward congress, insisting that those complaining never went to their ward centres.The tension was further flamed last Monday when some youths staged a peaceful protest to the Akwa Ibom State Secretariat of the PDP at Atan Offot, Uyo to lay complaints and express dissatisfaction over the conduct of the election of Ad-hoc delegates in the state.TATTLENG.COM even gathered that some aspirants and chieftains had immediately petitioned the National Working Committee (NWC) of the Party in Abuja, and demanding  the cancellation delegates election.Also, there was widespread speculation among supporters of the various aspirants that the dates for the party primaries would be extended to enable the party address the grievances.But the statement by  the electoral umpire on Thursday May, 5, 2022 warning that political parties that failed to conduct their primaries for the nomination of their candidates beyond June 3, 2022, risks disqualification seemed to have dashed that hope.The INEC stance on the political parties primaries deadline may have even worsened the tension in the state chapter of the party as some chieftains declined to comment on the development.The tension among the supporters of the governor in the PDP who went away with victory during the ad-hoc delegate election flows from what was described as the avalanche of petitions from Akwa Ibom State bordering on irregularities in the conduct of the congresses. Reacting to the situation in the state a source privy to happenings in the party simply told TATTLENG.COM in confidence: "The complaints you are hearing are expected. It is normal in every contest. Even if Umo Eno does not pick the PDP ticket, only one person among all of them aspiring will pick it. For me whoever emerges, I will support the person. It is not a do or die affair."Send   
2023: Abia: APP knocks PDP, zones guber ticket to Abia north
The Abia State chapter of the Action Peoples Party (APP), has resolved to zone its gubernatorial ticket to Abia North Senatorial district of the State.
It also specifically micro-zoned the deputy governorship slot to the people of Umunneato of Abia Central Senatorial district, while the people of Ukwa from the Abia South district will occupy the position of the Speaker in the State legislature.
But the opposition party has also knocked the State ruling Peoples Democratic Party, PDP, over alleged misrule and bad governance.
The Abia State Leader of the party, Mascot Uzor Kalu said this on Friday in a statement made available to newsmen in Umuahia, capital of the State.
Kalu also affirmed that the party has a working document on the zoning of the Abia governorship seat that will last for the next 20 years.
He also said the APP, which is on a rescue mission in the State, has come to free the suffering people of the State from the PDP-inflicted shackles of bad governance.
TATTLENG recalls that Kalu was former Chief of Staff to the former Governor of Abia State, Senator Theodore Orji representing Abia Central Senatorial district and had contested and lost in the last by-election to represent the Aba North and Aba South Federal constituency in the House of Representatives.
However, in his political move, he said, "the formation of APP is based on equity, justice and fairness, as these basic ideologies compelled the leadership of the party in Abia State to make clear pronoucement on its zoning arrangements.
"APP is coming to rescue Abians in 2023. It is important we support them to succeed. It is a party of equity, justice and fairness".
2023: Abia: APP knocks PDP, zones guber ticket to Abia north