Churlish Attack On Wike: Rebuffing Ray Morphy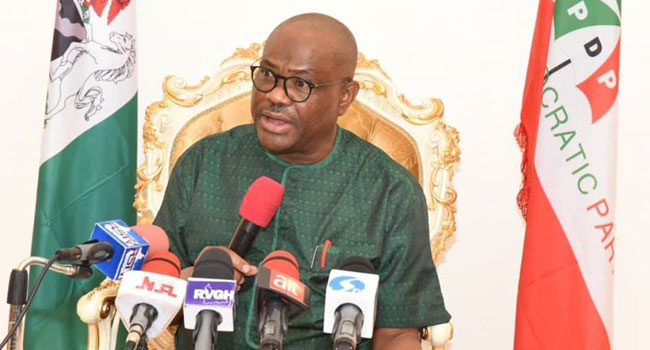 Mr Ray Morphy, veteran media practitioner and former Special Adviser to Governor Ben Ayade of Cross River State, on Strategy and National Contact, recently morphed into an unseemly mercenary sniper targeting Governor Nyesom Wike of Rivers State.Indeed it is debatable how well the dubious role of an out-of-job 'attack dog' fits the nimble Cross Riverian. But he certainly took on the wrong quarry.
Morphy brings a rather quaint approach to what is traditionally a brutal job – destruction of targets without qualms. In his clearly offensive piece titled "Garrulous Wike And His Presidency Mirage!" he concedes, "I have nothing personal against Nyesom Wike, indeed I knew him personally before he became governor."Having curiously confessed an old-time familiarity with his target, he warms up to his demolition job. Hear him: "The world is brimming with ambitious political leaders, but sadly very few matches up to the traits required or expected of good leaders. At this time in our national history, cool heads are needed, not hot heads; consensus builders are required, not bumbling wannabe dictators."According to him, "The governor of River State Nyesom Wike who incidentally wants to be president is yet to learn how to relate with those who disagree with   him in politics. Even though he deserves credit for his infrastructural development of Rivers State, he is yet to learn the fine art of statesmanship. He makes politics seem a constant war between him and his numerous opponents."Then Morphy goes on to do a secretarial job of listing governors and politicians he alleged Governor Wike had disagreed with or confronted in recent times. In all these contrived trajectory, Morphy shortly arrived at his destination – that Governor Wike's presidential aspiration is a mirage! Haba!It is not in doubt that today a customary political frenzy has seized nation's political space ahead of the 2023 elections. This is the period political hirelings suffuse the field, peddling misinformation and hate. Worse, many of these skulking snipers do it to support their 'stomach infrastructure.' There is absolutely no principle here.But then, intellectual honesty demands that those who label themselves as such ought to carry the depth that comes with both the field and such tags or risk being trashed by history. Today, Nigeria as a nation is a damaged entity, terribly divided with its economy in tatters and very unsafe, yet Morphy is unable to interrogate the leadership that presently dots such incompetence. I had thought that Morphy, a member of the ruling APC would derive intellectual courage to dissect the misgovernance of a party and president that have both crippled the country.The leadership models proposed by Morphy simply cannot work at this unfortunate period of the nation's history. To avoid breakup and incipient national disaster, Nigeria needs a strong, firm and principled leader to change the extant narrative. In which country on this planet will a commander-in-chief give a specific directive to subordinate operatives and they will return casually with stories instead of results. That Morphy acknowledges Wike's infrastructural achievements is a testament to the latter's sense of industry, resourcefulness and vision.Governor Wike who has significantly unsettled many since his declaration to contest in the upcoming presidential election is not a personality to be trifled with. He has clearly demonstrated that a powerful vision pulls in ideas, people and other resources. It creates the momentum and will to make change happen. It inspires individuals, complementary organizations and institutions to commit, to persist and to give their best. Navigating with this enduring philosophy, unassuming Governor Nyesom Wike has demonstrated impeccable professionalism, discipline and persistence to change his life's trajectory and impact his milieu in diverse arenas positively.A personality who has envisioned a new direction for his state, Governor Wike's governance story tacitly acknowledges the capacity of highly focused individuals to change their society for the better. Governor Wike's seeking of higher political responsibility – the presidency in this case – certainly is not a mirage by any metrics, except in Morphy's head. Today, Nigeria does not need wafflers or wimps. She needs Turkey's Ataturk, Singapore's Lee Kuan Yew, Indonesia's Suharto and other firm visionary leaders of recent history.One of what Morphy felt was an example of Governor Wike's alleged 'quarrelsomness' was his tiff with Governor Obaseki of Edo State. According to Morphy, "When Wike is not fighting people in his state, he is fighting his fellow governors. He has accused Godwin Obaseki, his Edo State counterpart, of "serial betrayal". Obaseki and Wike are both governors on the platform of the PDP. While speaking at an event in Port Harcourt recently, Wike tongue-lashed Philip Shaibu, Edo deputy governor, for daring to threaten the PDP. Shaibu had appeared on a Channels Television programme where he said he and Obaseki may leave the PDP if the party continues to treat them as outcasts."Perhaps Morphy does no realize that Governor Obaseki owes his second gubernatorial term largely to the intervention and sacrifice of strong personalities like Governor Wike who led the fight for Obaseki's reelection frontally. What is wrong with calling out ingratitude and "serial betrayers." No African culture supports insincerity and betrayal.When Wike disagrees with anybody, it is usually grounded on principle and not sentiments. He leaves no space for one to be unsure of where he stands on keys issues and gives consistent expression to this. This is certainly not garrulity.Philosopher and pioneer in the field of organizational theory and organizational behaviour Mary Parker Follett gently reminds us that, "It is possible to conceive conflict as not necessarily a wasteful outbreak of incompatibilities, but a normal process by which socially valuable differences register themselves for the enrichment of all concerned."According to renowned Austrian-American management sage Peter Drucker, "The greatest danger in times of turbulence is not the turbulence – it is to act with yesterday's logic." As it were, in a period of disruption, states or nations live or die by their ability to envision new order. This is Wike's forte.It was Winston Churchill, the British war leader who noted that, "Courage is what it takes to stand up and speak." Governor Wike has demonstrated this leadership trait throughout his governance trajectory and has come to be defined by it. This certainly the trait the next Nigerian president needs.The Morphys of this world should know and accept that they cannot cage or divert the emergent leaders a new Nigeria badly needs.Send   
How Aspirants Are Using APC Presidential Declaration To Negotiate Senate Tickets
Several of the aspirants vying for the presidential ticket of the All Progressives Congress, APC are using the platform to also make a stake for the Senate, TATTLENG.COM has learnt.
Senator Godswill Akpabio who declared his intention on Wednesday for the presidency, it was learnt, could also use the platform to successfully negotiate to be Senate President in the event that someone from outside the South-South zone gets the presidential ticket.
The only other contender for a principal officer position with him is Senator Francis Alimikhena who is also fighting the political battle of his life with Comrade Adams Oshiomhole.Oshiomhole had a month ago while celebrating his birthday declared his interest in the senate. He, however, has met stiff resistance from Senator Alimikhena who is determined to return to the Senate with the dream of vying for the office of Senate President or any other prominent position that could come to the South-South.Declaring his intention to bid for the Senate then, Oshiomhole had said:"It is true that for quite sometimes, many of our people have asked me why don't you contest for the Senate and I said first APC has crisis, let us fix the crisis, let there be convention because you cannot begin to discuss what kind of baby you are going to have when you are not married."Our leaders from the six local government areas have gathered here today to say I should contest and I believe that with your support, we will get there," he had declared last April.However, with the rough battle at home in Edo North, Oshiomhole like Akpabio and some other contenders for the presidential ticket of the APC, it was gathered has decided to show strength at the national level by declaring for the presidency with the Senate being a soft landing.TATTLENG.COM gathered that the bid by these presidential declarants fits in with the Villa cabal who in the next few days up the chorus for a consensus with those heeding the call being given Senate tickets and other positions.Send   
Tension Mounts In Akwa Ibom Over PDP Ward Congress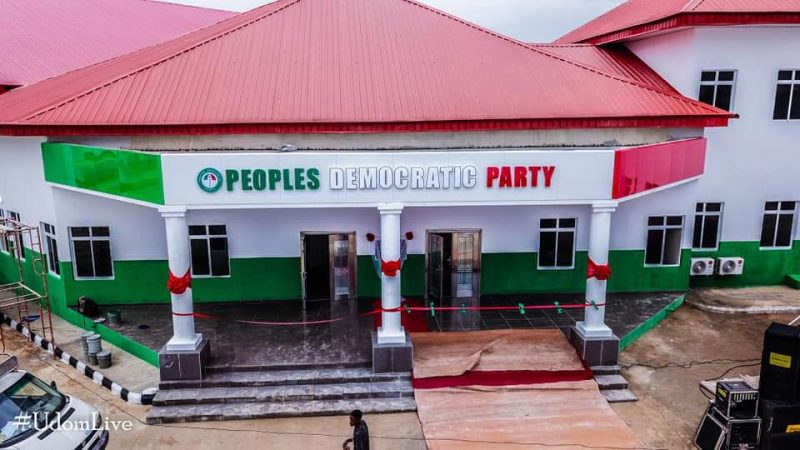 Palpable tension is gripping the mainstream of the Peoples Democratic Party, PDP in Akwa Ibom State over issues arising from the just concluded election ward congress of the party with the state leadership apprehensive of the prospects of the cancellation of the exercise.
Some of the party aspirants especially the governorship aspirants and their supporters had during the exercise raised allegation of disenfranchisement and election irregularities.
It could be recalled that Governor Udom Emmanuel had denied the allegations that the party disenfranchised anyone during the ward congress, insisting that those complaining never went to their ward centres.The tension was further flamed last Monday when some youths staged a peaceful protest to the Akwa Ibom State Secretariat of the PDP at Atan Offot, Uyo to lay complaints and express dissatisfaction over the conduct of the election of Ad-hoc delegates in the state.TATTLENG.COM even gathered that some aspirants and chieftains had immediately petitioned the National Working Committee (NWC) of the Party in Abuja, and demanding  the cancellation delegates election.Also, there was widespread speculation among supporters of the various aspirants that the dates for the party primaries would be extended to enable the party address the grievances.But the statement by  the electoral umpire on Thursday May, 5, 2022 warning that political parties that failed to conduct their primaries for the nomination of their candidates beyond June 3, 2022, risks disqualification seemed to have dashed that hope.The INEC stance on the political parties primaries deadline may have even worsened the tension in the state chapter of the party as some chieftains declined to comment on the development.The tension among the supporters of the governor in the PDP who went away with victory during the ad-hoc delegate election flows from what was described as the avalanche of petitions from Akwa Ibom State bordering on irregularities in the conduct of the congresses. Reacting to the situation in the state a source privy to happenings in the party simply told TATTLENG.COM in confidence: "The complaints you are hearing are expected. It is normal in every contest. Even if Umo Eno does not pick the PDP ticket, only one person among all of them aspiring will pick it. For me whoever emerges, I will support the person. It is not a do or die affair."Send   
2023: Abia: APP knocks PDP, zones guber ticket to Abia north
The Abia State chapter of the Action Peoples Party (APP), has resolved to zone its gubernatorial ticket to Abia North Senatorial district of the State.
It also specifically micro-zoned the deputy governorship slot to the people of Umunneato of Abia Central Senatorial district, while the people of Ukwa from the Abia South district will occupy the position of the Speaker in the State legislature.
But the opposition party has also knocked the State ruling Peoples Democratic Party, PDP, over alleged misrule and bad governance.
The Abia State Leader of the party, Mascot Uzor Kalu said this on Friday in a statement made available to newsmen in Umuahia, capital of the State.
Kalu also affirmed that the party has a working document on the zoning of the Abia governorship seat that will last for the next 20 years.
He also said the APP, which is on a rescue mission in the State, has come to free the suffering people of the State from the PDP-inflicted shackles of bad governance.
TATTLENG recalls that Kalu was former Chief of Staff to the former Governor of Abia State, Senator Theodore Orji representing Abia Central Senatorial district and had contested and lost in the last by-election to represent the Aba North and Aba South Federal constituency in the House of Representatives.
However, in his political move, he said, "the formation of APP is based on equity, justice and fairness, as these basic ideologies compelled the leadership of the party in Abia State to make clear pronoucement on its zoning arrangements.
"APP is coming to rescue Abians in 2023. It is important we support them to succeed. It is a party of equity, justice and fairness".
2023: Abia: APP knocks PDP, zones guber ticket to Abia north